Landscape Ideas
Bringing something different
Ideas to transform your space and create something entirely new. These beautiful bird boxes elevate the space and bring in a new and exciting dimension. This landscaping technique maintains the natural surrounds and paints outside of the box.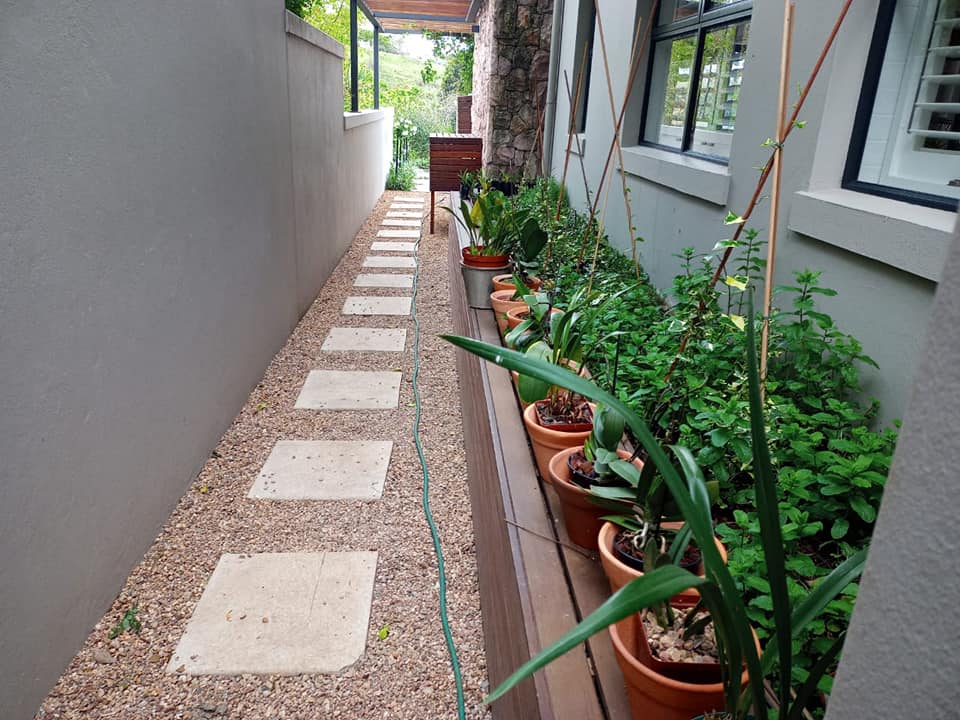 Transcape ideas | Maximising Small Spaces
Clever use of hard landscaping and landscape design within small areas that can be renewed in design and purpose.
Landscape the whole space
Think up … and down. Think handing gardens? Don't limit yourself – harvest all the space.
What are some cheap landscaping ideas? Some do it yourselfies ….
Paths provide interest and intrigue to a garden space. Using stones or pavers you can create an atmosphere and your own story as you move through the garden. Helping to keep people from walking on the grass they can save in maintenance too.
If you have the budget to add some moss or soft ground cover in between the stones even better.
Types of Garden Paths
There are many types of pathways, including short, long, narrow, straight, and curved.
Chipped slate, gravel, and wood chips are often used as loose surface materials, whereas slabs, tiles, bricks, pavers, decking boards, and natural stone provide a solid, smooth walking surface.
What to use instead of Pavers?
Gravel.
In addition to allowing better drainage than solid paving stones, it is one of the least expensive paver alternatives.
Poured concrete provides a continuous pathway, but it can be difficult to remove if you change your mind.
Can I lay paving on soil?
Paving slabs can be laid on soil, but it is not generally recommended. In order to install pavers permanently, you must excavate, level, and compact the ground
Have an old bathtub …. tyre…. wheelbarrow? Why not turn them into interesting planters. Its cost-free and helps the environment – the very best kind of gardening!!!
Here are some ideas to help you start thinking on creativity in waste material:
Bird Cages
Fish Bowls
Old Furniture
Boats
Old ladders
Landscaping that actually saves money.
Plant to eat healthy fresh produce. You may have to invest upfront to establish a strong healthy garden but you will reap the benefits in the long run.
Kitchen Garden Herbs
Basil. In addition to its uses in Italian cuisine, basil is great for adding flavor to soups and sauces.
Rosemary. In cooking, this hardy perennial herb develops a woody, balsamic flavor.
Chives. Easy to grow, chives have a delicate onion flavor.
Lavender. Used in the production of essential oil.
Oregano. Oregano in both its fresh anis used n a variety of food dishes in both its fresh and dried form.
The other use is for the production of essential oils. As a result of its antimicrobial properties, the essential oil is used externally and internally. Candida, athlete's foot, and insect bites are some of the conditions it is said to treat. It can also be used to repel insects.
Using space you never thought you would! Vertical gardens can be both interesting and beautifully productive. (Also the envy of the neighbours — "Why didn't I think of that!"
What plants can I grow in my vertical garden?
Vegetables that grow really well in a vertical Garden …
Beans, Carrots, Miniature Cucumbers, Miniature Eggplant , Garlic, Peppers Tomatoes.
Fruit that grow really well in a vertical Garden …
Strawberries .. who doesn't want some!?!
Medicinal Plants
Aloe Vera, Calendula, Chamomile, Echinacea,
If you are uncomfortable and really don't know where to start then it is probably time to call in professional help. If you are looking for more options and design ideas then a professional landscaper is going to be the way to go.
Working with a professional landscaper could make your landscaping project stress-free and leave you with a result you couldn't have achieved on your own